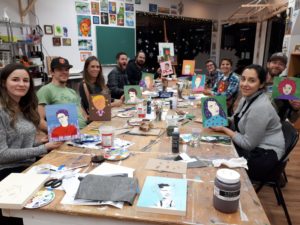 Get your friends together for an art party at our studio! We can accommodate any occasion – birthdays, staff parties, professional development and other private functions. Unfortunately we do not do children's parties at this time. Please visit our Fundraisers Page if you are a non-profit and looking for a fundraising party.
Our parties are 2 hours of instruction plus 1 hour for socializing, but we can customize to meet your needs. All supplies are included and we can accommodate groups of up to 18 in normal times… right now we can accommodate groups of 6 only.
Our studio is stocked with some glassware and a small fridge – please complete the form below and we will provide you with a complete list. You are encouraged to bring refreshments and food. There are plenty of fabulous options for lunch or dinner in Downtown Courtenay if you would like to order in.
Please note these parties are for adults… unfortunately we don't offer children's birthday parties at this time.
Party / Group Options
1. Acrylic Painting, Watercolour, or Print Making
$65/pp | Min. $390 | 2 hours instruction | 3 hours studio time
*GST Incl.
You will explore your creative side with your friends in a fun and positive environment. You will be able to take home your art work at the end of the party. We have lots of fun projects that ready for you and your friends to get into! Max of 6 people at this time.
2. Life Drawing
$85/pp | Min. $510 | 2 hours instruction | 3 hours studio time
*GST Incl.
When was the last time you got together with friends to draw a live model? Drawing experience is welcomed, but not required. Our instructor will be on hand to guide you. We will arrange a model, which is included in the cost. Max of 6 people at this time.
Booking Request
★★★★★ — Had a blast at our party night. Would recommend to a friend! Will do again!

★★★★★ — The Lupine Art Studio is a very heartwarming place with excellent service. I spent a wonderful afternoon there and I really enjoyed myself. I good place to learn more about art.

★★★★★ — My 6 year old had her unicorn themed birthday party here. Everyone had a great time and the instructor was rad!!

★★★★★ — ​​Super fun and chill place!

★★★★★ — ​​Community gem with quality classes

★★★★★ — Thank you so much for putting on such a great party for my daughter's 7th birthday 🙂 Jess was fantastic and everyone had a blast!

★★★★★ — ​​Such great studio space! Just completed an Intro to weaving class and loved it! Samantha was a lovely teacher–very calm, clear and helpful. She offered many resources for the class. A wonderful experience!