Class Description:
Connect with the west coast as you learn how to drill and set beach stones and glass in silver and copper bases. We will guide you through designing and building your own one of a kind pendant or set of earrings.
Beginning with stones provided by Cheryl (or feel free to bring your own special small stones), you will learn the proper drilling techniques that you can apply to future projects. We will rivet and apply texture with various tools including stamps and texture hammers. Lastly, you will have the opportunity to apply patina to your handmade jewelry.
We will take a break from instruction for lunch. You are welcome to bring your own lunch and remain in the studio or visit one of the many fantastic dining options in Downtown Courtenay.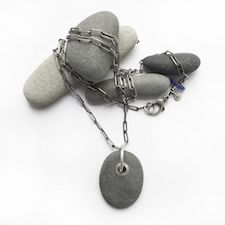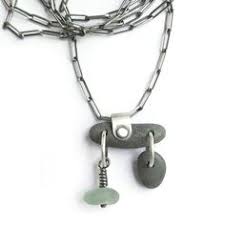 Date:
$149 / 1 class
Apr 27
Saturday 9:30am – 4:30pm
What is included:
All supplies (approx. $50 value) and tools are included. That means you just show up!
Who is this class for:
Level 1
Focus: Learning the Basics
Adults only please. Level 1 classes are for students with little or no experience. You will learn the basic skills for use of tools and introduction to the medium.
What to bring:
We have aprons, but wear clothes that can withstand the elements (i.e. glue, paint, etc.) of a fun, creative art studio. Nothing else is required. Bringing your own beach glass or beach stones is optional.
Other things you should know:
Please arrive no more than 5 minutes before scheduled start time.
About Cheryl:
Cheryl Jacobs Designs is located in Cumberland, BC where Cheryl produces jewellery for stores and galleries across Canada and the US. Her distinct style of silver jewellery includes earrings, bracelets, and pendants. Cheryl Jacobs is also recognized for her custom jewelry in gold or silver. She has recently introduced her newest line of symbolic devotional jewelry which includes lotus flower earrings and Buddha pendants.
Visit Cheryl's website: http://www.cheryljacobsdesigns.com/
April 27, 2019




9:30 am - 4:30 pm