This was my work space for most of the class today. Modge podge? I've heard the term thrown around between Jess and my sister-in-law Jenn over the years. Maybe this Xmas I can talk the talk…
[Continuation of My First Art Class – Week 1]
Making the time
Today was tough to make it in to class. Our little Hattie (4yrs) was rolling with me today and Jess was tied up in meetings. Thanks to our awesome, great, super friend Kandie, we were able to make it work. It was one of those times where it's so easy to prioritize everything else, rather than take time out for yourself. Yep, the same feeling you get when you drag yourself to the gym, to yoga, to pole dancing, or whatever it is you do (or want to do)… Sometimes it's tough to get across the line! But once you do, you always thank yourself – don't you?
Prints from last week
Check out the variety!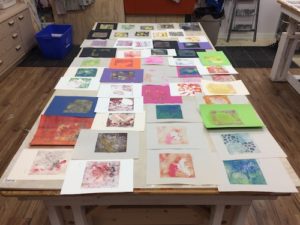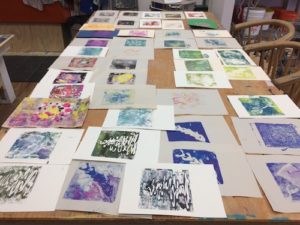 This week
Today we ripped up the prints that we didn't love and started on a collage. First, we did some painting as a background. Or foreground, or midground. Or, sometime you don't know what it's going to be yet. At any rate – it's the base of our collage!
This wasn't painting like I thought it would be. It was as easy (aka as simple) as you wanted it to be. I stuck to my usual conservative approach and went with some horizontal lines with a wide brush. Then we dabbled in the random art making supplies that Beth put out for us, like rubbing alcohol, bubbles, salt, dish soap, etc. It seems like this is the mixed part in mixed media?
Everyone had the same supplies to work with, but the only thing they had in common was that we were making landscapes!
I'll leave with with a few shots of some that are near completion (mine's the 1st on the left):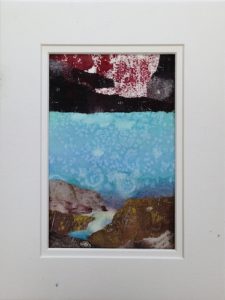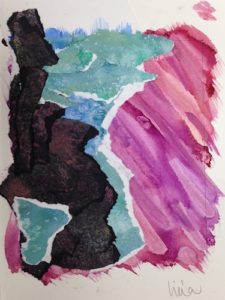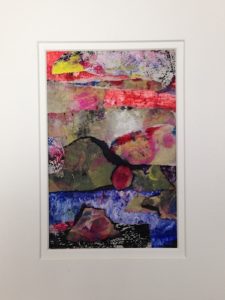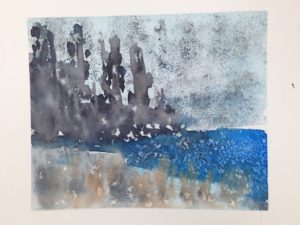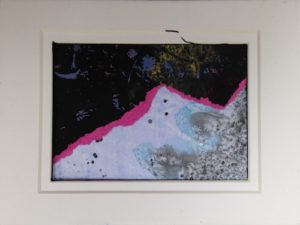 Interested in a class like this? Check out the 4 week version of this class starting next Wednesday – Mini Print Stamp Paint Glue