I signed up for Print Stamp Paint Glue, a mixed media class taught by Beth Borsato. I chose this class mainly because it seemed to be the most "beginner friendly", to me of course.
[This is a continuation of My First Art Class]
Beth's demonstration was super helpful – starting with brief powerpoint presentation of examples and a little discussion while demonstrating the project before us. Then it was time for me to create my own piece, but suddenly I felt a little lost… Even though the demonstration was clear, it seemed like I needed someone to tell me exactly what to do on my blank plexiglass? Like precise instructions – "Put this here". What if I don't do it right? I looked around to see what everyone else was doing. I was a little out of my element!
"Need a hand to get started?" Beth asked, but I politely declined. I could do this, it wasn't a big deal… It was just awkward to get started. The support was there, but I just needed to push beyond what I'm used.
I eyed the tubs of print ink, heaps of leaves, yarn, stamps, paper, orange mesh bags, toothbrushes, paintbrushes – all kinds of things. In retrospect, this is probably where a lot of people get hung up. Everyone seemed to just dive into it. So, I did also.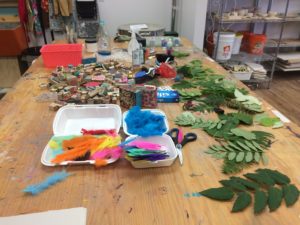 I slapped some black and red ink and rolled it out. It turned basically black, oh well. I made a few prints with some simple designs, mostly stamping, to burn through some of the black. The girl across from me made a comment on how hers was all bright and pink, defending that she's really not 'girly' like that. I felt the need to defend myself as not being a 'dark' person. Interesting how we felt that our art may represent our character, which it didn't of course!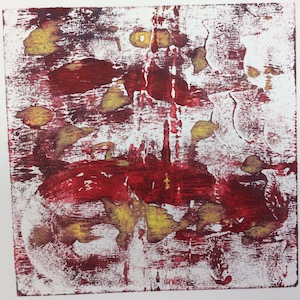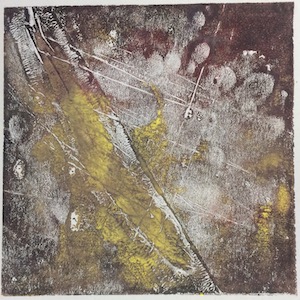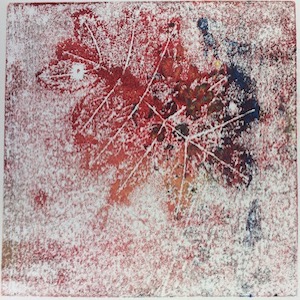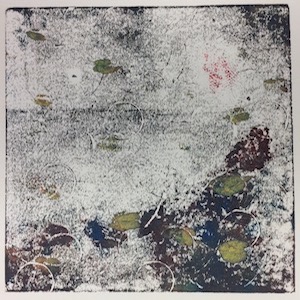 After messing around with some lighter colours and experimenting with some of the other tools, I felt like I was getting into the groove and actually creating some art! I don't know how long went by when all of a sudden I looked up and said "Wow, I'm just totally zoned out…". I felt relaxed, content. There was lots of encouragement and support from the others throughout the class, "Oo – that's cool", etc. Everyone was so friendly!
These are my first prints, and I already know what I would do better next time!
I'm looking forward to next week!
[Read on to Week 2…]