Slow start today! It was a challenge to get going, and I think it was because there was a lot of options. Or more likely it was that I'm such a rookie. The more experienced ones in the class seemed to get rolling fairly quickly, but that's alright…
[This is a continuation of My First Art Class – Week 3]
Getting Started
I'm sure a lot of people would love to have free reign over stacks of books/magazines with all kinds of neat images, glues, stamps, inks, paints, etc. and be told "Have at it!". This is a mixed media class with Beth – which means experimentation is key! But I never realized the aspect of decision making in art could be hard…!
After flipping through magazines and zoning out a bit, Beth asked if she could help me get started, which I clearly needed. We were supposed to pick an image to work with – I was hung up on whether to pick an image for a repeating stamp, or a single image (like a feature) for what we were making. This was the single issue I was stuck on – quite ridiculous looking back on it. Beth told me that I could do either. I said point blank, "I need you to tell me which one please!". Of course she helped me get started with some suggestions, that's what makes her awesome at what she does:) This is, after all, an art class for beginners:)
Rolling…
It did take a little bit, but I found my groove. I started off with Beth's recommendation of a background with pastels (black, yellow, red). Then I made some buildings from a foam pad, glued the foam to a wood block, slapped some ink on it and started stamping some buildings. I threw caution to the wind and changed up the colours a bit. Windows are nice – so I stamped some on.
I was cruising now. I needed some roads. I remembered driving down to Seattle awhile ago and that the roads were all concrete, not asphalt, which inspired my blocks. I even made some cuts into the foam to look like cracks! I admit, it was fun…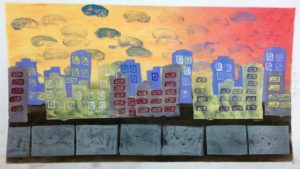 Other Examples
This is what some of the other students had created.
We're getting to the end of this mixed media class! Looking forward to seeing what Beth has in store for us next week…
[Continue on reading My First Art Class – Week 5 & 6]