I have to say, I'm a little sad the class is over! I don't think I was the only one though… Today we wrapped up our project that we started last week, which is part of the reason why I'm combining weeks 5 and 6.
[This is a continuation from My First Art Class – Week]
Our Last Project
What I really enjoyed about this project was that we were able to bring everything together from what we learned in the previous 4 weeks. We started with a plain canvas and spread plaster of paris on it using whatever tools and supplies we felt like to create a foundation of texture. I swiped a fork, stamped with a toilet paper roll, squished bubble wrap and who knows what else once I got into it…
Someone donated to Beth some very old and interesting black and white pictures (some were old war photos) – we were to choose one or so to incorporate into our project. Beth got us on all on the right track on the last day by giving us all 1 on 1 time to keep us moving along. I am super grateful for her helping me with colours which isn't my forte. Side-note: when I renovate a property, I generally have 3 colours – trim, wall and ceiling. And they don't vary much! Jess cringes every time…
She also cracked out the water-soluble graphite for us, which I used to draw a line from what turned out to be a hillside (or something like that). Lastly, I added from depth to my circles with some pastels (that's what I was doing in the picture – rubbing in some shading!).
I don't think this project is over for me, but I'll take Beth's advice on not looking at it for a few days. Maybe I'll have to drop into a Your Studio when the kids are in school to continue on with it a little more:) Here's what I did today, with the balls, balloons, bubbles or whatever you want them to be! Tap to see full size…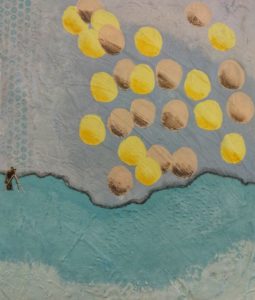 And these are a few awesome pieces from the other students in the class (tap to see full size).
That was a lot of fun! I hope you enjoyed reading my story and we look forward to seeing you in the studio sometime:)
~ Derek